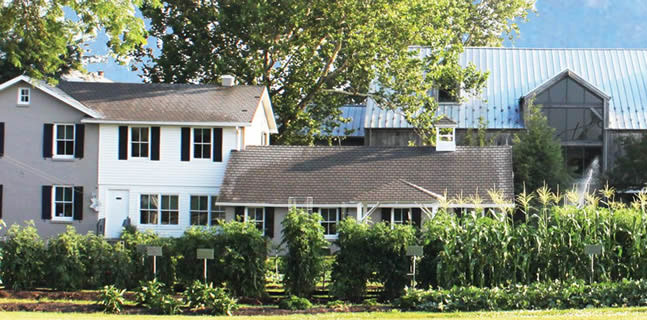 Over 50 Years From Farm to Table
In 1959, Lancaster County's original family-style dining room opened its doors to the public. Back then, the meal was served by Grandmother Lapp from her kitchen right in the barn. Not surprisingly, it became known as "Plain & Fancy Farm Dining Room."
Make no mistake about it, however, Plain & Fancy has welcomed hundreds of thousands of visitors from all over the world who have traveled to the "Farm" along Route 340 between Bird-in-Hand and Intercourse to taste and enjoy a bountiful feast of Pennsylvania Dutch home-style cooking, from "farm to table."
Upon re-opening in early April, guests will be welcomed to a new restaurant featuring authentic American BBQ and sauces, locally hand crafted beer, and a new, fun dining experience. The new menu will continue to offer the most popular, traditional Lancaster County favorites, including the Build Your Own Feast, which includes favorites from the original family-style menu. For groups of 20 or more, the traditional all-you-care-to-eat family style feast is still available with prior reservations. Please call 800.555.2303 ext. 221 for more information.
Today, Plain and Fancy Farm has become an 10 acre destination unto itself. Here calling home, in addition to the restaurant are:
The Spectacular Amish Experience F/X Theater where the critically acclaimed "Jacob's Choice" is shown daily.
The Amish Country Homestead & One Room School, the only officially designated Heritage Site Amish House in Lancaster County.
Amish Country Tours, since 1959, first in providing visitors with the opportunity to explore the incomparable farmlands and learn more about our Amish neighbors in a thoughtful and respectful manner.
Amish View Inn and Suites whose majestic views of its bordering farmlands is simply not duplicated anywhere else in Amish Country.
Aaron & Jessica's Buggy Rides offering horse-drawn buggies on special routes through the countryside daily year-round.
Group tour reservations (20 or more) for all activities on the Farm, including meal reservations for the original famous family-style Amish feast, are made by calling 800.555.2303 ext. 221.