The Old and the Moo
Little is taught today of food and milk production in America. This insightful farm-based experience allows students to discover in two very different settings how milk reaches the table from the source.
It's yet another exclusive Amish Experience tour that is both fun and educational, as we visit two family-owned and operated dairy farms, contrasting Amish and non-Amish modern milk production.
Cow Stop #1: Amish Dairy Farm
We've made special arrangements with an Amish farmer to personally conduct a tour of his farm. Learn how the cows are milked mechanically and milk kept cool with unplugged "Amish electricity." Visit some of the other farm buildings, see the animals, and take advantage of the unique opportunity to talk with an Amish farmer.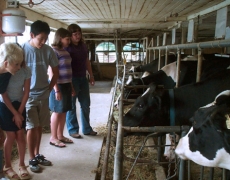 Cow Stop #2: Kreider's
Equally memorable is the computerized modern dairy operation at Kreider Farms, where over 1,500 cows are milked continuously on a revolving "carousel". The barns are so large that our bus can drive right through the middle!
Students will be amazed by what they see, and what they didn't know!
Allow 4 hours.
Schedule a School Tour by calling 800.555.2303 x221.
For more information, email our Group Tour department.