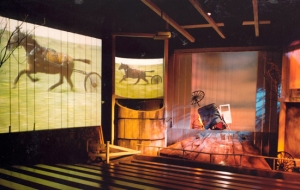 This dramatic tale of "Jacob's Choice", an Amish family's effort to preserve a lifestyle and a culture is unforgettably told through a high-tech, multi-media production conceived in the finest tradition of Hollywood and Orlando themed attractions. Recently re-mastered with added visuals, sound re-design, and new special effects, visitors experience "400 years of history in 40 minutes of magic."

Only the third "experiential" theater in North America, the Amish Experience Theater, three years in research and planning, has been designed to break down the barrier between audience and movie screen. Changes in the environmental space within the theater literally allow you to "experience" the action as it unfolds around you.

Neither an IMAX nor a 3-D movie, the theater set consists of actual barn siding, with five multiple projection screens, 100,000 watts of theatrical lighting, custom-designed mechanical special effects, four-dimensional sound imagery, an original musical score, and unforgettable ghosting effects.

"Jacob's Choice," nevertheless, remains at its heart an emotional, personal story of an Amish family and the resilience of Amish culture through the ages.