Christmas Magic Lantern Show
"A Christmas Journey"
    Join us as we step back in time and become part of a Victorian family's traditional Christmas Eve celebration. The family is very excited and you will be, too, as Grandpa tells fabulous Christmas stories with the help of the amazing Magic Lantern.
"What a true treasure we discovered here! The show consists of hand painted plates projected on a screen while the narrator/projectionist/singer/all around showman, Phineas, tells the story.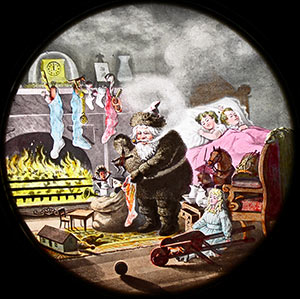 And what enjoyable stories they were including "The Night Before Christmas", "A Christmas Carol" and some old time stories appropriate for this turn of the century form of entertainment. We were delighted to hear that there are only 17 of these lanterns still operational in the world and we felt very privileged to be able to experience this show. We hope to visit again soon to see a different show.
Definitely take the time to experience this rare gem."
– TripAdvisor review from Lois.
The surprises and joys of the season are brought to visual delight with humor and timeless storytelling.
Classic Christmas stories and poems and much more will fill you with the Christmas spirit. You'll sing along with some of your favorite carols and laugh out loud at the "Parade of Toys," and the story of an out-of-control giant snowball! Plus, new for this year…the Charles Dickens' story of Gabriel Grubb and the Goblins. Using beautiful antique slides recently obtained from England, this story pre-dates A Christmas Carol!
Your Showman will take you on this wonderful trip through the joys and heartfelt emotions of the Holiday Season as he presents iconic stories and poems like "The Night Before Christmas," with stunning visual images, heartfelt music and legendary storytelling.
And the power of the Ghosts of Christmas Past, Present and Future will come alive as he uses his spellbinding talents to weave the story of Scrooge's miraculous transformation in Charles Dickens' classic tale "A Christmas Carol".
So come and make this authentic and touching look at Christmas Holidays gone by a family tradition as you join us for a very special Magic Lantern Show!
Pricing at Door:
Ages 13+ $19.95 I Ages 4-12 $13.95
---
BOOK Online and SAVE $5 per Adult:
Ages 13+ $14.95 I Ages 4-12 $11.95
Shows at 2:00PM and 7:00PM:  November 27 and 28; December 5, 12, 19, 23, 24, and 26 through 31.  (NOTE: December 24 and 31, 2:00PM show ONLY.) Show duration is approx. 90 minutes.
Tickets also make great Christmas gifts!