What is a Magic Lantern Show?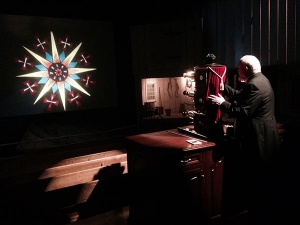 Before there were movies, DVDs, CDs, and videos…there were Magic Lanterns. Throughout the 19th century to the early twentieth century, Magic Lanterns were the most popular form of entertainment in the country.
Performing more than 75,000 shows a year, traveling Showmen, their lanterns in tow, created unforgettable experiences for thousands of Magic Lantern theatergoers nightly. Blending music, comedy and stunning hand-drawn images, Magic Lantern shows captivated the hearts of Americans from town to town.
Our magnificent three-tiered, painstakingly restored 1890 Magic Lantern is truly a sight to behold. With images of days gone by, yet equally meaningful today, our Magic Lantern shows never fail to thrill the imagination, leaving you with an experience that lasts long past the journey home.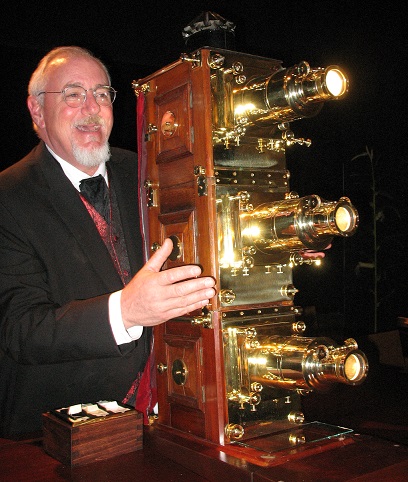 The authentically costumed "Showman" is part actor and part magician, and all entertainer! As actor, he portrays the many characters in each show, often using different accents in an animated interaction with his audience around him. As "magician," he manipulates the scores of framed images, much like the conductor of a symphony orchestra, masterfully sliding them in and out of the lantern, coordinating as many as 90 images, dissolves and special effect slides in a single 45-minute show while lending music, song and effects to his storytelling at the same time!
For the first time in over 130 years anywhere in the U.S., there is now a permanent theater offering Magic Lantern shows to the public!
So, join the Showman as he weaves fantastic projected images into wonderful stories filled with music and laughter. The fascinating "special effects" and mechanical marvels will have you clamoring for more. Here at Plain & Fancy Theater "everything old is new again," as we bring to life the golden age of the Magic Lantern!