Amish House & School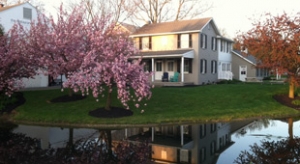 The Fisher Family Homestead & One-Room Schoolhouse – A Visitor Landmark for over 50 years!
The Amish Country Homestead is a reflection of our commitment to accurately and sensitively portray the Old Order Amish as they live and work in today's world. The Homestead is the home of the fictional Amish family of Daniel and Lizzie Fisher, whom you have gotten to know in the Amish Experience Theater's "Jacob's Choice."
Inside the Homestead, we learn of Amish traditions and practices, plain clothing and life without electricity. The Fisher One-Room School is attached to the house and filled with authentic desks and furnishings from an actual Amish school. You'll learn the tradition of teaching eight grades in one room.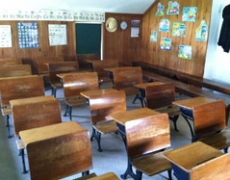 From the pantry stocked full of freshly canned vegetables to the family's plain clothes… from propane-powered lamps to air-compressor driven appliances…the Fisher Family Homestead truly provides insights into the complex riddles of a culture so very different from our own.
Tour Times
Homestead tour duration is approximately 45 minutes. Tours begin every hour, at quarter of the hour. (First tour: 10:45 AM; Last tour: 4:45PM).
Open 7 days a week through November 25 (closed Thanksgiving).
December hours:
Saturdays only from December 2-16. Open every day, except Christmas, from December 18-31
Also in 2018:
Open January 13-15 and February 17-19
$12.95 ages 13+
$8.95 ages 4-12
Purchase tickets in-person at the Amish Experience Box Office.
VIEW ALL TICKET PRICES
Officially Designated Lancaster County Heritage Site
Your 45-minute personally guided tour of this carefully appointed Old Order Amish House offers fascinating insights into Amish life today. The Homestead is continually updated to reflect current Amish furnishings and styles. The schoolroom is an often photographed visitor favorite.
Lancaster County has become a national model for its acclaimed Heritage Program, designed to highlight sites and people that authentically interpret the special traditions, cultures, buildings and crafts that exemplify its people.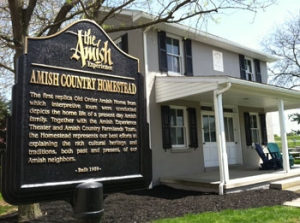 The designation from the Lancaster County Planning Commission is awarded only to those properties, craftsman and attractions that tell authentic stories that accurately interpret local culture. In this case, the Amish Country Homestead was the first, and remains the only, Amish attraction to receive this prestigious Heritage Site designation.