Farmlands Tour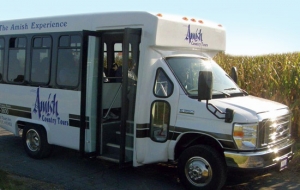 For 64 years, the cornerstone of "The Amish Experience" has been the 90-minute guided Amish Farmlands Tour, taking you deep into the heart of the oldest Amish community in the world where you'll marvel at some of the most beautiful farmland you'll ever set eyes upon. These are the same fertile fields that attracted and have kept our Amish neighbors here for over 250 years. Our local expert Amish Country Tours guide answers your questions while calling your attention to the fascinating sights we observe along the way… whatever happens to be going on.
When you join us on one of our 14-passenger mini-bus tours of the out-of-the-way back roads and country lanes, you'll experience a sense of the work and family ethics that continue to mark the Amish way of life. Witness spectacular panoramas of patchwork farms unparalleled in their intrinsic beauty, still farmed with horses and mules. Roadside stands, bake shops, or a visit to a craft or quilt shop on an Amish farm are among the unique happenings enjoyed on your 90-minute Farmlands excursion.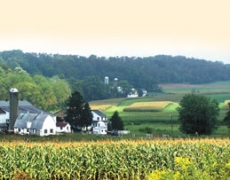 2023 Farmlands Tour Pricing 
$33.95 ages 13 and up /
$19.95 ages 12 and under.
Our best value is the Super Saver Package, which includes the Farmlands Tour as well as the Homestead and Jacob's Choice.  The Super Saver Package is $45.95 per person ages 13 and up, $26.95 ages 4 through 12, and $19.95 ages 3 and under. 
No fees for booking online!  Fully refundable up to 24 hours prior to activity start time.  
(NOTE: If you wish to reserve a seat on our bus for the Farmlands Tour only this can't be reserved online.  Please call 717-768-8400, ext. 210.)
2023 Farmland Tour Days & Times:
We are open the following days: December 2, 9, 16, 23, 26, 27, 28, 29, 30.
Departures at 10:00am, 12:00pm, 2:00pm.
VIEW ALL PRICES
Farmlands Tours are limited to 14 passengers on our mini-buses. If your children ride in a car seat in your car, you must bring those car seats along to place in our bus – it is PA Law. Tour check-in and departure at Amish Experience Theater box office, east parking lot, at Plain & Fancy, Route 340, between Bird-in-Hand and Intercourse. Please arrive at least 15 minutes prior to tour time.  (GPS: 3121 Old Philadelphia Pike, Bird In Hand, PA 17505)  We cannot hold the tour for late-comers.  If you are traveling with pets, please arrange for their care prior to arriving at the Amish Experience as pets are not allowed on our tours.