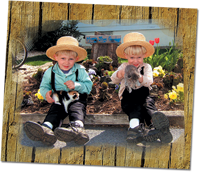 Amish Visit-In-Person Tour 2018 – An Officially Designated Lancaster County Heritage Tour
Trip Advisor "Certificate of Excellence"
Certainly, visitors to Lancaster seek out meaningful personal contact with the Amish, an experience many hope for but invariably are unable to realize. Imagine visiting three Amish properties where our longstanding relationships allow you to become their guests during your stay. This tour is limited to 14 people to provide maximum personal contact as we visit the Amish on the farm, at work, and at home.
Pricing at Door (Book online for discounted price) 
$61.95 ages 13+
$41.95 ages 6-12 (no children under 6 permitted on tour)
Runs Monday-Saturday at 5:00PM from April 2-October 31, 2018, plus Saturdays only in November. 
Tour check-in and departure at Amish Experience Theater box office, east parking lot, at Plain & Fancy, Route 340, between Bird-in-Hand and Intercourse. Please arrive at least 15 minutes prior to tour time.  (GPS: 3121 Old Philadelphia Pike, Ronks, PA)
Save an additional $4 by booking online and guarantee your seat at the lowest available price. We'll even pay the service charge!
"Visit-in-Person Tour is the Best"—The ability to interact on a personal level with local Amish people was FANTASTIC. The tour guides really care about these people and help you to really understand their way of life.
Stop 1: Amish Farm
When we arrive at the farm, we enter the barn to learn about the milking process firsthand. You may be surprised to learn that the Amish do not milk cows by hand. You will also discover how milk is kept cold in the bulk tank with "Amish electricity." Other aspects of farm life may also be included.
Stop 2: Amish "Cottage Industry"
With the price and scarcity of farmland, many Amish have started their own small enterprises, making everything from gazebos and furniture to farm equipment and quilts. These "home businesses" have become the subject of books and articles emphasizing the balance these entrepreneurs achieve between work and family. Our visit may be to a carriage maker, goat cheese artisan, soap-maker, a canning kitchen, or a wooden toy maker, among others. An actual demonstration is normally a part of this fascinating stop.
Stop 3: Amish Home Visit
To conclude our evening, we travel scenic backroads to a distant farm in the countryside. As we step inside the house, we find that friendly conversation awaits as we sit, chat, and visit the way the Amish do, talking informally without TVs, IPhones or computers. It comes as no surprise that strangers soon become friends.