Total Amish Experience
Truly a one-of-a-kind experience and only the third theater of its type in North America. "Jacob's Choice" tells the emotional story of the Fisher family, from sixteenth century Europe to modern-day America.  Ghostly effects, cannon, wind, rain and fire effects immerse you in the world of the Amish.
(approx. 40 minutes, shows on the hour.)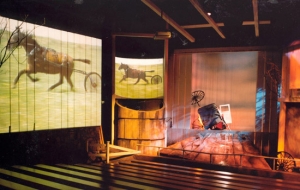 Authenticity and interpretation explain why the Homestead is the only Amish House and Schoolroom designated an official Lancaster County "Heritage Site." The house tour answers the "how" and "why" of Amish dress, life without electricity, and many other Amish riddles. (approx. 45 minutes)
Visitors the world over know the beauty of our Amish countryside. Not much has changed on our backroads….horses plow the fields, buggies clip-clop down country lanes. In your coach with driver, our step-on guide reveals Amish life up close with fascinating stops along the way, customized to your group's interests.
Plain & Fancy Restaurant – Lancaster County's landmark restaurant, serving a delicious, ample, plated meal fit for an appetite of PA Dutch proportions.  Based on two meats, the meal includes starters, sides, desserts, and beverages.  Plain & Fancy's famous golden fried chicken and Lancaster County made pork sausage are customarily included.  Other menus and even other restaurants and pricing available upon request.
Schedule a Group Tour by calling 717-768-8400 x217.
For more information, email our Group Tour department.