Total Amish Experience
Truly a one-of-a-kind experience and only the third experiential theater of its type in North America. "Jacob's Choice" tells the emotional story of the Fisher family, from sixteenth century Europe to modern-day America.  Ghostly effects, cannon, wind, rain and fire effects immerse students in the world of the Amish, past and present. (approx. 40 minutes, shows on the hour.)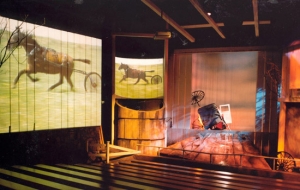 Authenticity and interpretation explain why the Homestead is the only Amish House and Schoolroom designated an official Lancaster County "Heritage Site." The house tour answers the "how" and "why" of Amish dress, life without electricity, and many other Amish riddles. (approx. 45 minutes)
Visitors the world over know the beauty of our Amish countryside the world over. Not much has changed on our backroads…. horses plow the fields, buggies clip-clop down little-traveled roads. In your coach with driver, our step-on guide reveals Amish life up close with fascinating stops along the way, customized to your students' interests.
Plain & Fancy is Lancaster County's original family-style restaurant.  In 2020, plated meals replaced family-style dining, but we are excited to announce that in 2023, the traditional all-you-care-to-eat family-style dining that made Plain & Fancy famous is returning!  
2023 Family-Style Amish Dinner
(All-You-Care-To-Eat)
Rolls with Butter
Coleslaw
Signature Golden Fried Chicken
Eye Round of Beef with Au Jus (Cooked "Medium")
Grammy Lapp's Meatloaf
Real Mashed Potatoes with Gravy
Brown Buttered Noodles
Green Beans
Cinnamon Cake
Oatmeal Coconut Pie
Beverages Included: Iced Tea, Lemonade, Coffee, Hot Tea & Water
Schedule a School Tour by calling 717-768-8400 x217.
For more information, email our Group Tour department.